EXPERT REVIEW: Blackmores Toddler Milk Drink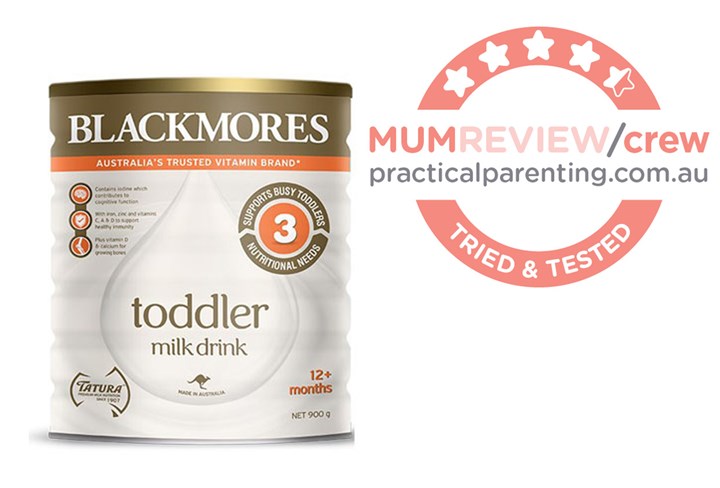 Fussy eaters, nutrient-deficient toddlers and those who have trouble sleeping might just find help in the form of Blackmores specially formulated Toddler Milk Drink.
Practical Parenting Parenting Reviews Editor / May 28 2019
My 15-month-old toddler, Louis, is a good little eater most of the time (when he's not throwing the food around the room or running the gamut of childcare illnesses he frequently brings home!).
But no matter how much food he eats throughout the day, or which illness he's brought home from daycare, he always wants a bottle at bedtime. Understandably. It's comforting for him, as he nestles in close to me and falls asleep in my arms for the night. He always sleeps better with a full warm bottle satisfying his tummy. And if he doesn't have a bottle before bed, he is restless all night… And as a consequence, moi gets zippo sleep, too.
But, I'm also aware that he is becoming a 'big boy' now and ready for the next 'age-appropriate' stage. That said, I'm just not sure he's quite ready for a carton of cow's milk after all the reflux/colic/gastro bouts he has experienced in his mere 15 months on this planet…
The alternative, of course is Toddler Milk Drink. Now, as a Parenting Editor of 20 years and mother of two boys, I feel pretty equipped with most toddler issues, but when it comes to carton milk versus specially formulated Toddler Milk Drink, even I had a few questions.  
So I called in the fabulous and super wise Julie Cottle – Blackmores Maternal Health and Infant Nutrition Specialist. Julie has the mother-load of expertise when it comes to infant nutrition and has answered the cries of countless mums.
Here, Julie kindly answers all those questions mum's have about transitioning toddlers, so want to know about toddler milk drinks in order to help you make the right choice for
Q. What are the benefits of moving baby to toddler milk drink versus cows milk?
A. There is growing evidence that shows that Toddler Milks are better for preventing nutritional deficiencies than cow's milk for those toddlers that are fussy eaters and do not eat a wide range of family foods. Particularly common deficiencies in this age group include vitamins A, C, D, iron, zinc and iodine.
Q. How does toddler's diet affect their sleep?
A. Food provides energy and as such, some foods can have a stimulating effect on the brain and keep little ones wide awake and restless for longer, this is amplified when foods are high in refined sugars. However, there are some types of food that have a sedating effect on the brain. They contain a calming amino acid called tryptophan which promotes sleepiness and relaxation and helps to regulate your baby's body clock.
What is tryptophan? I'm glad that you asked… Tryptophan is an amino acid that our bodies use as a raw material to build all sorts of proteins in the body including the brain chemicals serotonin and melatonin. These are essential for relaxation and for setting the internal clock that helps your baby to know when to sleep, eat and play. 
But, in order for the tryptophan to help your child's sleep, your little one needs to eat tryptophan-containing foods alongside foods that contain healthy carbohydrates. This not only helps more tryptophan to reach the brain promoting the release the relaxing serotonin and melatonin, but it also stops the brain from taking up other amino acids that make baby more alert. Toddler Milk drink provides a good source of tryptophan combined with the natural healthy carbohydrates- A glass of standard cow's milk before bed is not just an old wives' tale.
Q. Can you tell us about Blackmore's toddler milk drink and the benefits for toddlers?
A. Blackmores Toddler Milk Drink is enriched with nutrients for a settled toddler so, you can all be at your best. Made using the highest quality ingredients, the Blackmores infant nutrition range is made using premium Australian milk sourced from grass fed cows in the Goulburn Valley. It is suitable from 12 months. 
Blackmores believes in real parenting. We understand the pressures and anxieties of early parenthood so we help fight for more of the good moments #Winning
Supported by 85 years of experience in natural health products (and in-house expert, Julie Cottle, Maternal and Infant Health Specialist) Blackmores has worked to create a nutritionally balanced formulation inspired by nature. Combined with a balanced diet, Blackmores Toddler Milk Drink contains the essential vitamins and minerals to support your growing toddlers' nutritional needs.
HEALTHY GROWTH & DEVELOPMENT
With essential Vitamins A, D, E & Calcium to help support your toddler's growth & development
With Vitamin C & Zinc to help support a healthy immune system
With Iron & Iodine to help support your toddlers' cognitive development
Gluten-free, GMO-free with no added table sugar (sucrose) or artificial sweeteners
Q. How can Blackmores milk drink help them sleep better?
A. Blackmores Toddler Milk Drink contain alpha-lactalbumin protein which, is a good source of the essential amino acid tryptophan we just talked about. Research has shown that this protein supports neurological function and quality of sleep in both children and adults. Blackmores Toddler Milk Drink also contains SN2-parmitate (OPO),
Q. Is an organic formula better?
A. Organic formulas are produced using certified organic ingredients and are a good choice for those that want a basic formula made from organically produced milk. The drawback is that many of the additional ingredients that are added to infant formula cannot be sourced organically and therefore are left out of the formula.
A good option for a clean, green AND comprehensive toddler milk is one that contains milk from grass fed cows and no artificial preservatives, flavourings or sweeteners.
Q. What should parents look for when choosing a suitable Toddler Milk Drink?
A.  The most important things to look for are:
A nutritionally balanced formulation made with quality proteins and carbohydrates from milk that can be traced back to the farm it was collected from.
Choose a brand that is Australian-made - The standards for manufacturing dairy products in are extremely high. Australian made is sign of quality and by purchasing a brand that uses Australian milk, you are supporting Australian farmers.
Look for a product that tastes good and is easy to mix while you're out and about, choose one that doesn't foam or leave an oily film on your toddler's bottle or cup.
It should contain key essential vitamins and minerals to prevent common nutritional deficiencies and provide comprehensive nutritional support for those toddlers that are still learning to eat a wide range of family foods.
Vitamins A, D, E & Calcium to help support your toddler's growth & development.
Vitamin C & Zinc to help support a healthy immune system.
Iron & Iodine to help support your toddlers' cognitive development- Iron sulphate commonly causes constipation and tummy discomfort. Look for a Toddler Milk that contains iron (ferric) pyrophsphate for a type of iron that is more gentle on the tummy and unlikely to cause constipation.
No added table sugars (sucrose) or artificial sweeteners.
Prebiotics- A type of fibre to help keep your toddler's bowels regular and feed the good bacteria in your toddler's digestive system.
It's important to know where your little one's food comes from and what's inside. If you have any questions across maternal health or infant nutrition, contact the free Blackmores Advisory Service today on 1800 808 669.
BUY IT
-
related products & reviews

Franki Hobson is a women's lifestyle journalist and editor with more than twenty years' experience. Her areas of expertise include parenting and health and well-being. Franki has two gorgeous boys, Maxwell, 10, and Louis, 1 ½.
Brought to you by