Spice up taco Tuesday with this epic Chicken taco recipe from Hayden Quinn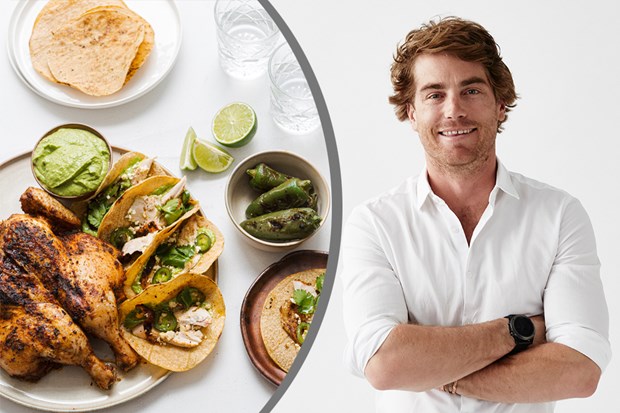 You won't believe these came out of your kitchen!
By
Practical Parenting Team
November 03 2020
Quick, simple, easy ... the perfect trifecta for a successful family dinner. And
tacos
 nail all three. 
Nobody
can complain about their dinner
when they've filled their own taco, and that's the dream. However, rolling out the same taco ingredients every Tuesday night can get a little on the dull side, right?
Fear not ... m
uch loved Aussie Masterchef star, Hayden Quinn has taken the humble taco that Aussies know and love to the next level with this incredibly yummy take on it using everyone's fave .. chicken!
Check out his recipe below ...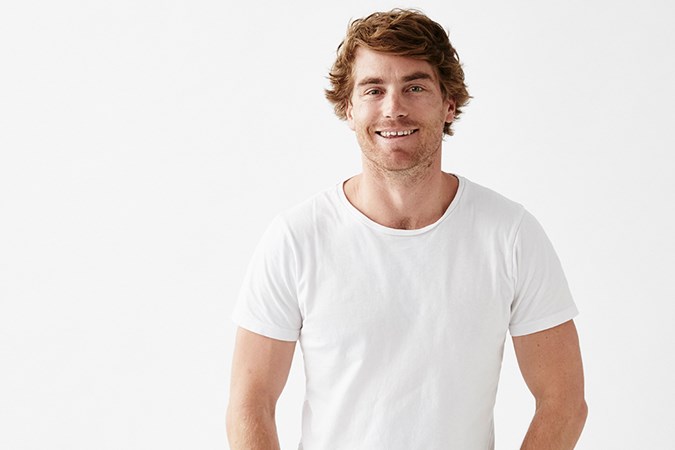 Mexican Butterflied Lilydale Free Range Chicken Tacos 
Serves: 4
Prep time: 15 minutes
Cook time: 35 minutes
NOTES: *To butterfly a chicken, place the chicken breast-side down on a stable board and using poultry scissors cut along either side of the backbone and remove. Turn the chicken over again so that it is breast-side up. Rotate the legs sideways and using the palm of your hand press down on the breast and flatten against the board.
Marinade:

2 tbsp extra virgin olive oil

1 tbsp smoked paprika

1 tbsp ground cumin

1 tbsp dried oregano

1⁄2 tsp chilli powder

1⁄2 tsp ground cinnamon

Finely grated zest of 1 orange

Juice, 1 orange

1 tbsp sea salt

1 Lilydale Free Range Whole Chicken, butterflied*
Coriander Jalapeno Crema
1 bunch coriander, torn (stems and leaves only) 4 jalapeno, roughly chopped

250g sour cream
1 ripe avocado
1 tbsp water
1 tbsp australian extra virgin olive oil Juice, 1 lime
Sea salt, to taste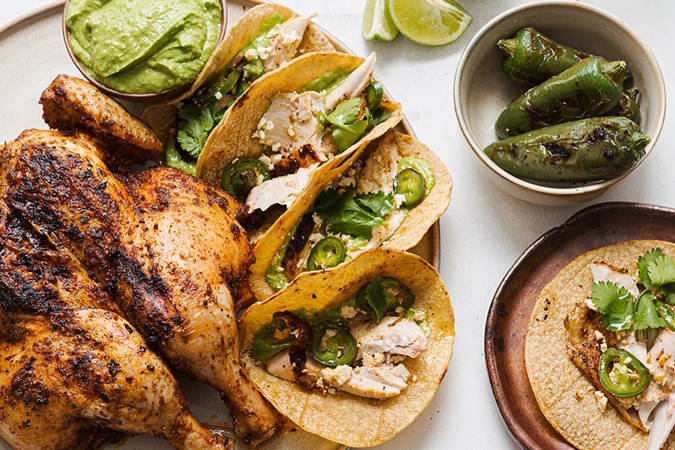 12 mini Corn tortilla, charred on BBQ 4 jalapeno, charred on BBQ

Lime, to serve

Coriander, to serve

90g feta, finely crumbled, to serve
Method:
Step 1.​ Preheat a hooded BBQ (or oven) to 200C. Place all marinade ingredients into a small bowl and mix well to combine. Pour over Lilydale Free Range chicken and rub all over, at this point you can either cook the chicken right away or place in the fridge to marinate. Cooking chicken skin side up over a medium high BBQ for 15 mins, flip and cook skin side down for 5 mins until lightly charred, flip again so chicken is again skin side up and finish the cooking process for a further 15mins or until chicken is cooked through and juices run clear when checked.
Step 2.​ While the chicken is cooking, make the crema by placing all ingredients into a blender or food processor and blitzing until smooth. Set aside to serve.
Step 3.​ Serve the whole chicken to the table with corn tortillas, charred jalapenos, lime, coriander and crumbled feta to DIY your own chicken tacos.