Forget Caramilk, Special edition Cadbury White Christmas is here!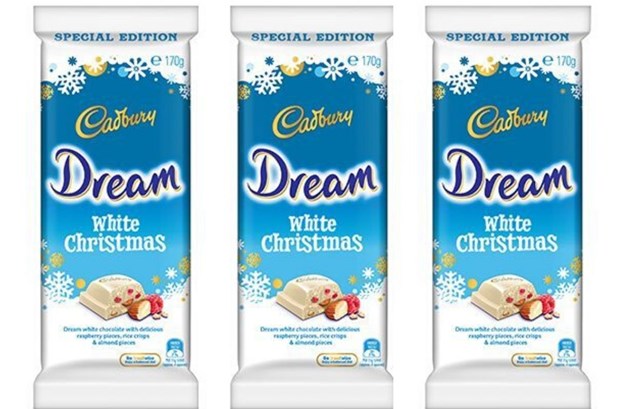 Run don't walk!
Australia is in the middle of Caramilk frenzy!
Supermarket shelves can barely keep up with the demand with the return of the iconic caramel chocolate treat. 
Get ready for another chocolate bar craze to hit, Cadbury are launching a special edition Dream White Christmas!
Watch: Cadbury Caramilk Martini
Christmas wouldn't be complete without the addition of a platter of White Christmason the dessert table. 
A traditional Aussie family favourite is now available ready made!
Available soon is Cadbury Dream White Christmas and it sounds delicious. Raspberries, sliced almonds, rice crisps and of course plenty of white chocolate.
A spokesperson for Cadbury said told Taste: "White Chocolate icon Cadbury Dream is pairing with your favourite seasonal inclusions to launch Cadbury Dream White Christmas – a deliciously indulgent block bursting with freeze-dried raspberries, sliced almonds and rice crisps!"
It is believed that the Special Edition White Christmas will be hitting Woolworthsand Colessupermarket shelves next week.
In the past independent supermarkets have often sneaked products the shelves before official release dates, keep an eye out!

Michelle Connolly has worked as a photo director, social media manager and photo editor at some of Australia's biggest media companies, including New Idea. She is now editor of Practical Parenting and loving mum-of-two.