Why is my baby crying?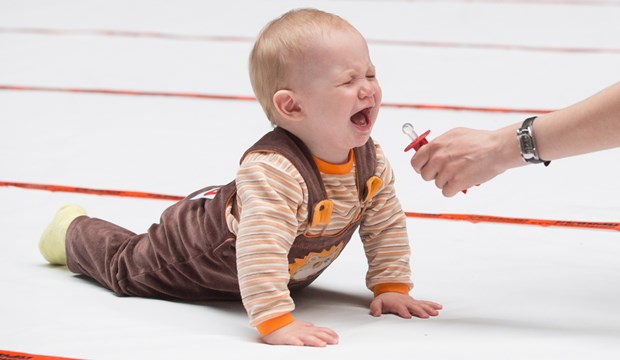 All babies cry. It is their way of communicating. But for a new mum, determining what your little one is trying to tell you can be a challenge.
By
Belinda Butler
June 02 2016
Is he hungry? Tired? In need of a cuddle or a nappy change?
In the early days, when you're still learning the ropes and getting to understand your baby's needs, his crying can be quite distressing for you. However, this will gradually lessen over time as you discover how to recognise
his different patterns.
When baby cries, it's helpful to mentally go through a list of possible causes, and exclude each one.
Dirty nappy?
 
Many babies cry when their nappy is soiled or wet because it feels uncomfortable. If your little one
is crying, a good place to start is with his nappy. While you are in the vicinity, check for skin irritation and nappy rash (another reason your baby may be crying).
Could he be hungry?
 
Hunger is a common cause for a baby to cry because it's a sensation that may feel uncomfortable for him, made worse because his stomach doesn't hold much. And that's why he requires frequent feeds throughout the day and night (something you are most likely acutely aware of).
Even though many people say there's no need to burp babies after a feed, if yours is crying it's worth a try.
Does he need a cuddle?
 
Many babies feel most settled when they are being held, which isn't surprising, really. Your little one has spent 40 weeks tightly cocooned within your womb, and probably feels most reassured when he has close physical contact with you. Your baby may feel secure being held close to your chest so that he can hear your heart beat. Additionally, he may feel soothed by being wrapped (or swaddled) snugly and gently rocked.
Is he tired?
 
Sometimes babies cry just to let you know they've had enough. In fact, newborns tire quite easily with the constant stimulation around them: lights, noises, being passed from one adoring admirer to the next.
If your baby is crying because he is tired, reduce the level of stimulation by taking him to a dimly lit room with less noise. This will help to calm and settle him for a sleep.
Inconsolable crying
 
Some babies have long bouts of unexplained crying or fussing, which people commonly label colic. It can be very upsetting for parents when their babies cry for lengths of time, and many parents respond by feeling anxious and stressed, which often makes their babies cry even worse.
If your baby is crying inconsolably, it's important to try to remain relaxed and calm. Remember you are the soother! Once you have mentally gone through possible causes and attended to all potential needs, if your baby continues to cry, it is beneficial to discuss this with your doctor as there may be a medical reason for his distress.