Spooky low sugar Halloween treats for kids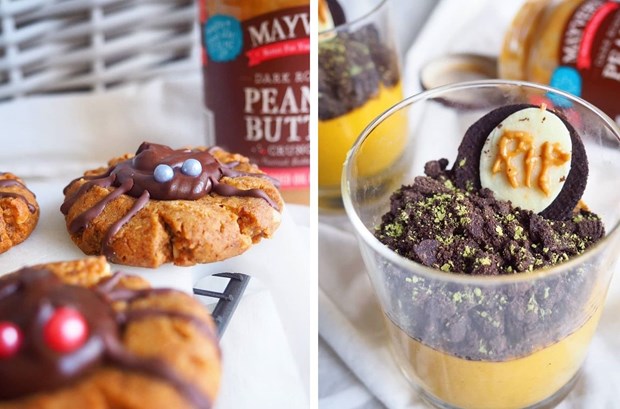 Get into the spooky spirit!
Time to get a little bit spooky as Halloween is fast upon us.
If you kids are anything like mine they have been bouncing around the house for weeks now, eagerly awaiting the magical time of the year where they can dress up and devour sugar, sugar and more sugar!
Sugar is fun, we all love a bit of sugar, some kids go absolutely nuts for it.
If you are keen to keep the sugar levels to a minimum but still create awesome fun and delicious treats, the following recipes are just what you are looking for!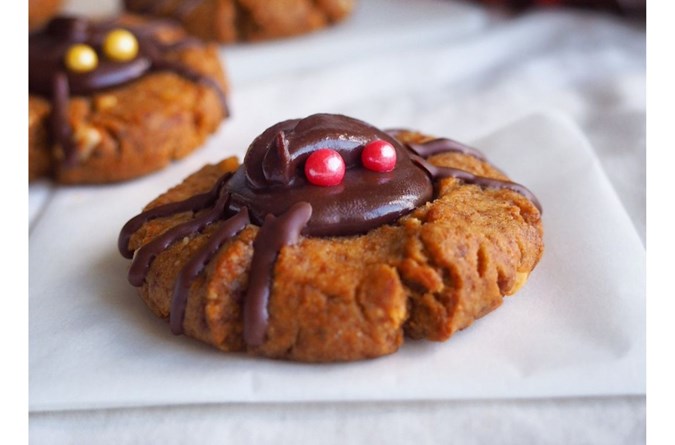 Spooky Spider Peanut Butter Cookies
(Serves: 12, Gluten Free / Vegan)
Cookie Ingredients
1⁄2 cup spelt flour
1 tsp baking powder
Pinch of salt
1⁄4 cup Nuttelex (or other vegan margarine/butter), melted
1⁄4 cup Mayver's Dark Roasted Crunchy Peanut Butter
1⁄2 cup coconut sugar, heaped 2 tsp vanilla essence
Chocolate ganache ingredients
1⁄2 cup light coconut milk 125g quality dark chocolate 3 tbsp coconut oil
1 tbsp rice malt syrup
1 tsp vanilla essence
Bonus ingredients
20g quality dark chocolate
24 cachous (ensure this isvegan friendly, ie. no shellac or gelatine)
Method
Begin with the chocolate ganache. On the stovetop, gently heat all the ganache ingredients until the chocolate has melted and the mixture is smooth. Remove from heat and cool, before putting the mix in the fridge to set completely.

To make the cookies, first pre-heat the oven to 180C and line a baking tray with paper. In a mixing bowl, sift together the flour, baking powder, and a touch of salt.

Separately, whisk the coconut sugar with the melted vegan margarine (or alternative) and vanilla essence. Stir through the peanut butter until combined.

Mix the wet mix into the dry until a dough is formed – you may need to use your hands! Divide into 12 equal balls and flatten onto the prepared tray. Press your thumb into the centre of each cookies to create an indent. Bake the cookies for 10 minutes.

After 10 minutes, check the cookies – they may need to be gently indented again. Be careful!They'll be hot. Turn the tray around and bake the cookies for another 8 minutes. Remove from the oven and cool completely, before transferring to a wire rack.
Creating the spiders!
Once the cookies have completely cooled, it's time to decorate! Gently scoop small portionsof ganache into each cookie indent. This is the head! Now, press 2 cachous into one side of the ganache to create eyes.

Next, melt the remaining 20g of chocolate, and, using a butter knife, drizzle 4 lines ofchocolate onto each side of the ganache "head" to create legs. Put the cookies in the fridge to set the chocolate legs, before serving!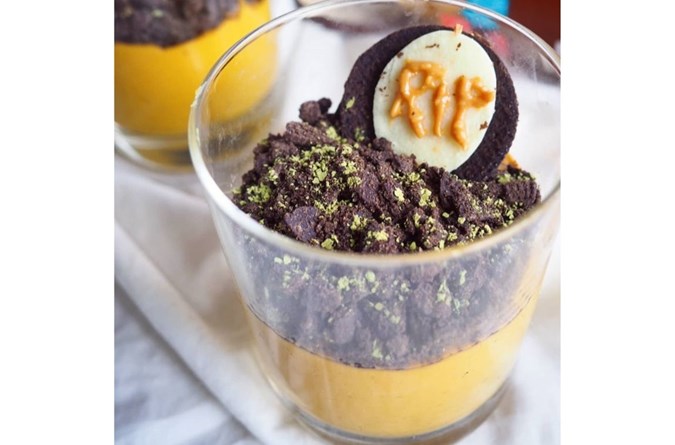 Graveyard Pudding Cups
Serve: 2 Vegan
Ingredients
1⁄4 Japanese pumpkin (unseeded), skinned and cut into small chunks
2 large bananas
1⁄4 cup Mayver's Dark Roasted Peanut Butter1 tsp cinnamon

6-8 Oreo cookies (or similar alternative) Extra peanut butter

Bonus ingredients
Matcha powder
Edible flowers
Method
Using alfoil, cover the pumpkin chunks and roast in a 180C oven for 25 minutes. Set aside to cool. This is best to do the morning of, or night before to give pumpkin enough time.

Split the cookies in half and set aside the parts with the white 'crème'. Crumble the remaining chocolate sides. Tip: easier by crushing in a ziplock bag using a rolling pin.

In a blender, blend the cooled pumpkin, banana, peanut butter and spices until smooth. Spoon equal portions of the mixture into two separate jars, and top with the crumbled chocolate cookie. Set aside in the fridge to set.

Using two of the remaining white crème of the cookie halves, use a butter knife to carefullydrizzle 'RIP' onto the crème with peanut butter. Gently press these onto the top of the mousse. Decorate the cookie crumbs by sprinkling matcha powder and edible flowers as a finishing touch!

Michelle Connolly has worked as a photo director, social media manager and photo editor at some of Australia's biggest media companies, including New Idea. She is now editor of Practical Parenting and loving mum-of-two.