Salmon recipe for toddlers 12 months plus - Mini Salmon Patties with Beetroot Dip Recipe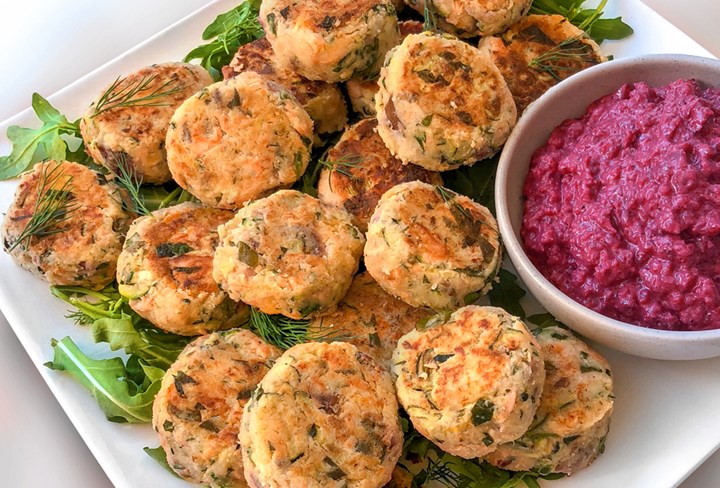 Research shows that high flavoured foods may be better received by babies and toddlers if the flavour is diluted.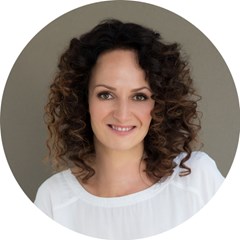 Practical Parenting Parenting Reviews Editor / February 18 2019
Which makes this salmon recipe for toddlers 12 months plus the perfect finger food and introduction to super salmon! The mini salmon patties are easy for little ones to hold, nibble on and fun to dip in the beetroot dip! And the best bit, they are healthy. Prepared by Australia's leading nutritionist and mum to two younglings, Susie Burrell, this salmon recipe for toddlers is not only healthy, but packs in a super amount of brain fuelling proteins, Omega-3 and B-group vitamins.
"Salmon contains high sources of protein, is rich in Omega-3 and range of B group," explains Susie. "Fuelling my family with the right foods is a key part of my role as a mum and salmon is one of the most nutrient dense options out there. Rich in Omega-3 fats, high in protein, contains vitamin D, Vitamin E and a range of B group vitamins and antioxidants I feed it to my family at least 2-3 times every week to give them all the health benefits it offers."  
Salmon recipe for toddlers 12 months Plus - Mini Salmon Patties with Beetroot Dip Recipe
Makes: 24 - per serve
64 cals / 270kJ | 4g fat | 3g protein | 4g carbs | 1g fibre | 50mg sodium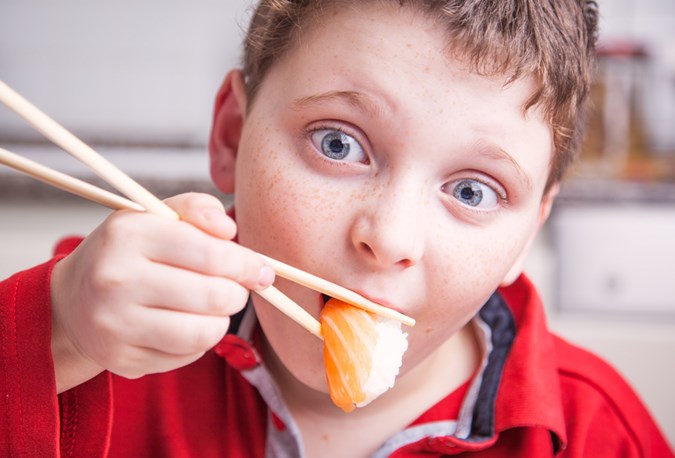 Ingredients
1 x 260g Tassal Tassie Fresh Salmon Fillet, skin-off
3 tsp olive oil
1 purple sweet potato, washed
1 zucchini, coarsely grated (if moist, squeeze out excess moisture)
1 spring onion
1 Tbsp almond meal
1 egg
Juice and zest from ½ lemon
1 Tbsp fresh parsley, chopped
1 tsp capers, chopped
½ tsp Dijon mustard
Pinch of Salt and pepper
1 tub of Beetroot Dip, from the dip aisle of the supermarket
Preparation Method
Boil sweet potato in water for 15-20 mins until tender. Drain and then mash the sweet potato until smooth.
Heat 1 tsp olive oil in a fry pan and cook the salmon fillet, 4-5 mins each side. Once cooked, flake the salmon fillet into a bowl and set aside.
Mix the flaked salmon, sweet potato, zucchini, spring onions, almond meal, egg, lemon zest, juice, parsley, capers, Dijon, salt and pepper together in a bowl and place in fridge to chill for 20 mins.
Shape 1 Ttbsp of the chilled mixture into small patties. Repeat with the remaining mixture and put in fridge to chill for a further 10 mins.
Heat remaining oil in a non-stick frypan on medium heat and cook patties for 3-4 mins each side and serve with some beetroot dip.
Recipe kindly supplied by Susie Burrell for Tassal Super Salmon
BUY IT
-
related products & reviews

Franki Hobson is a women's lifestyle journalist and editor with more than twenty years' experience. Her areas of expertise include parenting and health and well-being. Franki has two gorgeous boys, Maxwell, 10, and Louis, 1 ½.