Is this proof Meghan will have an April baby?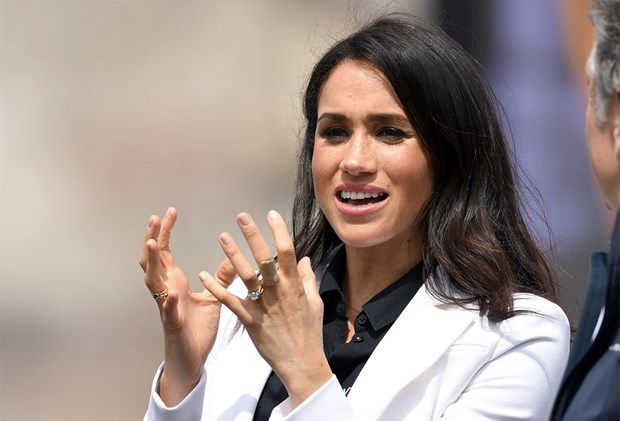 Eagle-eyed fan spots a telling clue
By
Practical Parenting team
October 25 2018
A new ring that Meghan Markle has been spotted wearing on her tour of Australia and the South Pacific may hold the clue to her baby's due date.
The Duchess of Sussex wore a stack of three rings to the Invictus Games event, made by Canadian brand Ecksand.
Fans have suggested that the stones in each ring may represent her birth month, Prince Harry's birth month and the new baby's birth month.
"I'm hoping Meghan's stacked rings represent their birthstones and Baby Sussex is an April baby," wrote a fan with the user name @DuchyofSuccess.
Meghan's birthstone is green periodot, Prince Harry's is blue sapphire, and the third, a diamond, is the birthstone of those born in April.
"I definitely think that Baby Sussex will be born in April. So the diamond fits," agreed one fan.
Singer Missy Higgins also let slip that the Duchess was four months pregnant, posting on Instagram she wrote: "What an honour to meet the beautiful Duchess today! She was such a sweetheart.
"I said I felt sorry for her having to do all these meet-and-greets while 4 months pregnant! What a trooper."
If Meghan is around 17 or 18 weeks pregnant now, it means the due date could be the beginning of April.