Brave mother of six children under seven opens up about her frightening diagnosis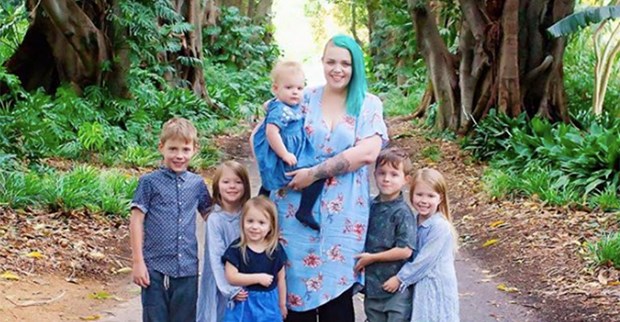 "'I'll kick cancer's a**e before it kicks mine"
Digital News And Entertainment Editor / October 23 2018
The brave and upbeat personality behind blog Eight At Home is known for her frank and hilarious approach to life. 
Krechelle Carter, 28, from South Australia has always preached not to take life too seriously, especially when it comes to parenting. 
But, the normally bubbly personality has shared her devastating diagnosis.
Speaking to FEMAIL, Carter said: "I've just found out I will need to have my bowel removed to save myself from getting colon cancer and have a permanent stoma and bag fitted.
"I am my husband's world and my six children rely on me for everything from holding their hand through the tough times to tucking them in bed at night."
Krechelle and her husband Dave share six children - Sylus, 7, Noah, 5, Olivia and Paige, 4, Bailey 3 and Emerson, 2. 
Speaking candidly about her situation, Krechelle explained she was diagnosed with polyp disease after undergoing a series of colonoscopies. 
"They [doctors] had been finding these polyps...that are the worse kind to find. 12 months later they were still finding them," she said. 
The young mum also said she found out there was a family risk of colon cancer and her medical team were concerned about the fact she had these sorts of growths at such a young age.
"We sat down with the surgeon and that's when they gave me the ultimatum - 'get a bag to save your life'."
Krechelle said this means removing her colon and putting in a stoma in order to reduce her potentially high risk of developing colon cancer.
"At the age of 28, I can't take a risk that big with six young children," she continued. 
Krechelle continues, "Although I'm putting on a brave face that I'll kick cancers a*** before it kicks mine, I'm scared and saddened that I got chosen to go through this." 
The brave mother adds that her husband Dave has gone from working full-time to not working at all so he can concentrate on helping her recover and look after the kids.
Krechelle and her family and friends have begun a GoFundMe to raise money that will be used to help with the families living expenses. 

Grace is our Digital News and Entertainment Editor. When not stuck in a seemingly endless Instagram scroll, you'll find Grace with her head in a good book.