BabyLove Nappy Pants Expert Review: A Solution For The Wee Folk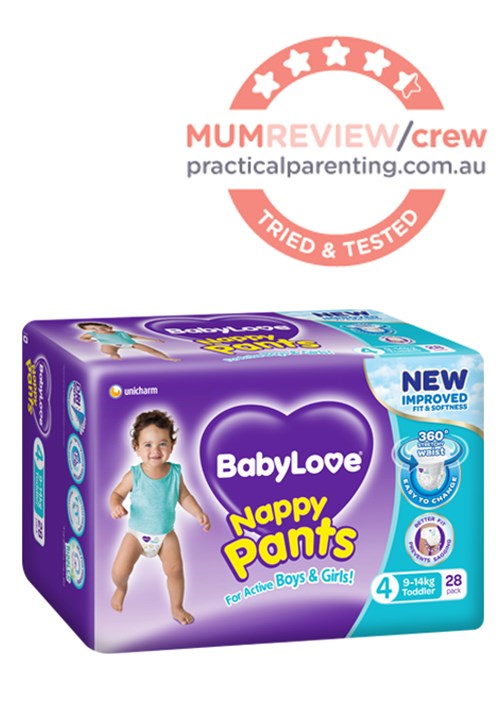 No sagging and no round-the-clock nappy changing! Hooray!
Nappies. Wee (pun intended) mums will change approximated 2000 nappies in our little one's first year. Then there's the toddler phase. And for those of us with wrigglers, well, nappy time can be a crappy challenge at best!
So we invited 50 Practical Parenting mum's with busy little toddlers to trial the newly designed BabyLove Nappy Pants, and see what they thought.
The newly designed BabyLove Nappy Pants feature the latest technology – DriWave Tech. This new tech includes an absorbent core shape (for instant absorption), and a 360 degree stretchy (and comfy) waist that ensures a perfect fit for active toddlers and helps prevent sagging.
But do the stand up to the ultimate nappy challenge?  Here's what our MUMReview Crew® had to say …
Change time was easier
Our mums with active toddlers commented on how much easier and quicker change time was, with the pants easy to 'pull up and pull down' while their toddler was wriggling, dancing, trying to escape! And because the back of the Nappy Pants are labelled 'back', you're guaranteed to put them on the right way!
They are super absorbent
Some of our MUMReview Crew reviewers noted that the absorbency was better than other brands, which meant less nappy changes. Other mums commented on the quick absorbency, so toddler's bottom was kept dry even after urination. None of our reviewers noted any leakage issues with the Nappy Pants. BONUS!
They are sag-proof!
The 360 degree stretchy waistband means that the nappy pants fit snug around toddler's waist, just like pants do, and not around their knees! Many Mums commented on how this resulted in a better fit, and meant no nappy 'sagging'.
The materials are super soft and there were no 'chaff' marks
Some mums noted the material of the nappy is softer, more absorbent and therefore less 'bulky' when soiled compared to other brands.
The side seams were easy to use
Most mums loved the perforated side seams. In fact many mums noted that side tabs often 'dug in' or left red marks on their toddler's hips. However, the 360 degree waist on the Nappy Pants meant zero chaffing or 'digging in. The pants ensured a 'perfect fit – not too tight or too lose – every time.
The verdict
4 1/2 stars (as of 17/05/19 based on 24 reviews)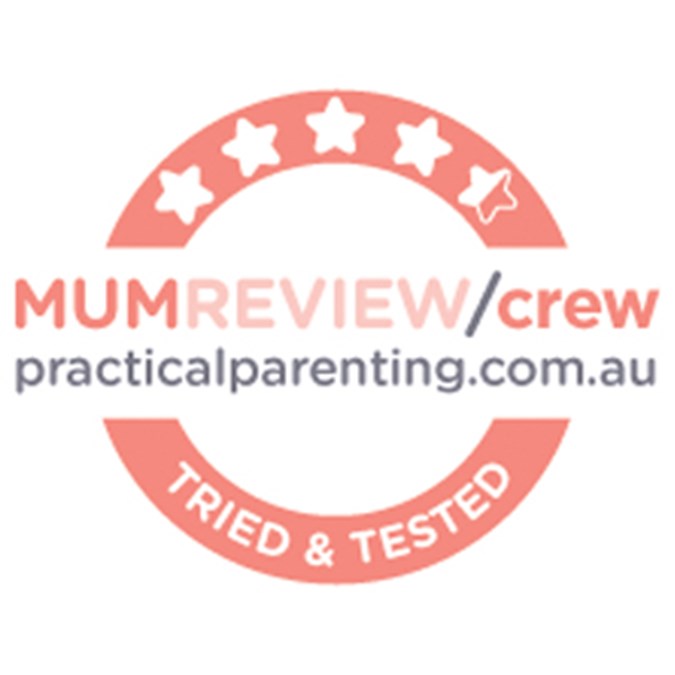 "These are without a doubt the best nappy pants on the market! I have tried other popular brands which aren't even near as soft, and do not hold as much as baby love. They are regularly on sale half price so work out very cheap if you stock up. The soft waist band means no digging in or red marks on the hips and I love how they have written back on the nappies! Definitely recommend."
Erin
/
MUMReview Crew
reviewer
"We're using the 9-14kg nappy pants and even with our boy on the small side at 9kg these fit perfectly. They're easy to put on with the 360 degree waist especially when he is standing and wriggling on the change table. The printed "back" sign was helpful for Hubby so he knew the right way to put it on too :-D They're lasting through the night easily. The nappy seems to keep away from the skin much better than the tab nappies and he has way less red marks and less nappy rash since using them. "
Amanda
/
MUMReview Crew
reviewer
"Babylove nappy pants definitely were a time-saver for me, a single mum of twins. They were great for when I got them out of the bath and have them sit on my knee whilst I put a nappy on. I just slid the nappy on. It also suited my Mum who only know's how to do old school nappies."
Lisa
/
MUMReview Crew
reviewer

Franki Hobson is a women's lifestyle journalist and editor with more than twenty years' experience. Her areas of expertise include parenting and health and well-being. Franki has two gorgeous boys, Maxwell, 10, and Louis, 1 ½.
Brought to you by