Baby shower gift guide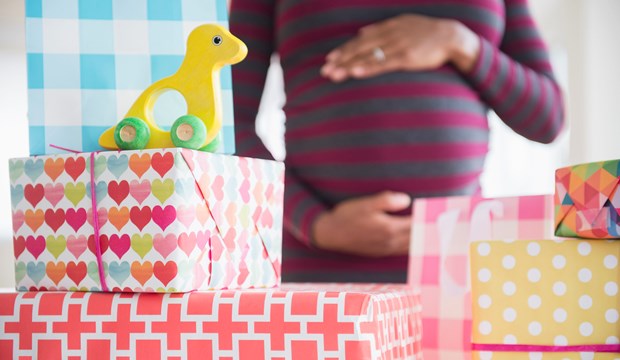 Your essential baby shower gift guide
By
Practical Parenting
June 03 2016
As tempting as it is to buy those adorable size three designer sneakers, you really need your gift to practical - but still thoughtful. Here are our top baby shower gifts ideas for new parents-to-be.
Nappy cake

What's a baby shower without cake? And this is one that mum can enjoy for weeks. Layered with nappies, lotions, towels, and stuffed toys. It has the newborn essentials and it looks cute on display too.
Keepsakes

Every new mum wants to remember their baby's first milestones. Baby books, photo frames, keepsake boxes and bespoke baby bracelets will help make memories last forever.
Toys

It will be a while before bub actively plays with toys - but soft, tactile toys will engage his little brain. Try to find toys with clips so they can be attached to the pram or car seat.
A gift basket for mum

Why should it be all about bub? Pamper mum with a basket full of relaxing treats, like herbal teas, chocolates, scented lotions, and bath salts. It could be her last chance to relax for a while!
Nappy service  

If mum is going down the cloth nappy path, give a gift certificate for a nappy delivery service. Outsourcing the washing, drying and folding of nappies for a few weeks will be a lifesaver!
Personalised onesies

Make baby's first onesies even more special by getting them custom made with Dad's favourite sport team, Mum's former university or his parent's occupations. 
Bottles and bibs

The washing is going to pile up, so help new mums create a stockpile with bottles, bibs, burp cloths, bottle brushes and if you want to spend a bit more - a steriliser. 
Wraps

Shield their little bodies from the elements with muslin wraps, mittens, socks, booties and hats. These teeny tiny items will have everyone oohing and ahhing.
Bath items
Bath time is such an essential part of a newborn's development. Stock the bathroom up with fragrance-free body wash, baby shampoo, bath toys/books and face washers.
Nappy organisers

A nappy bag, a nappy stacker, even a nappy bin. They go through up to 6-10 nappies a day, so help new parents by keeping them organised, handy and… hygienic.